Potential Adult Content. But nothing too risqué and all presented with utmost taste.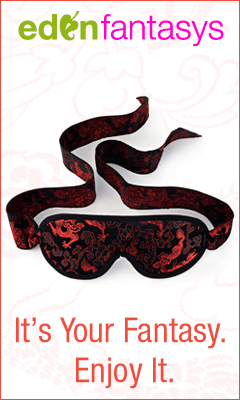 I recently had the opportunity to do an
EdenFantasys.com
giveaway that was a huge success! Thank you EdenFantasys! We work hard, we eat right- we deserve to feel cute & flirty for our significant others!
EdenFantasys offers a HUGE variety of cute little lingerie sets, fun & sexy Halloween costumes, massage oils, candles, dvds, adult novelties, giftcards, and more. And you can shop from the convenience of your home computer. I know I feel more comfortable shopping for my lingerie & massage oils online rather than going into one of those stores. Free gift with every order!!! They ship FAST, offer free shipping on orders over $59.00, and in discreet packaging - so you can surprise your honey. Or better yet let him surprise you and send him a link to EdenFantasys!
Here are a few of my favorite items:
Pheromone Massage Oil Candle
Shunga Edible Massage Oil Candle
Pinstripe Chemise & Thong
Fathers Day is right around the corner-wouldn't your hubby appreciate something from Edenfantasys? I know mine would. You could even get him an Edenfantasys giftcard and let him choose from Edenfantasys huge selection of candles, adult toys, lingerie, dvds, and more! Ooh la la! Keep it fun all year with Edenfantasys!
Dont forget to like EdenFantasys on Facebook and follow them on
Twitter
!