So do you have New Years goals? I dont have a resolution exactly but I am really working on leaning out, building muscle, and LOSING fat :) One thing that works for many people (myself included) is to have an outfit or two picked to wear after you lose those pounds/ build that muscle/ tone up/ etc. This method REALLY works for me so I went ahead and ordered this beauty from
EdenFantasys.com
!
If you havent shopped at EdenFantasys yet, head on over to their website, find

EdenFantasys on Facebook, and follow @EdenFantasys on

Twitter, to check out their assortments of sex toys, fun club clothes, awesome bath & beauty products, fun adult novelties, sexy lingerie, and MORE! Here is the motivational (& gorgeous) dress that will help me reach my New Year goals: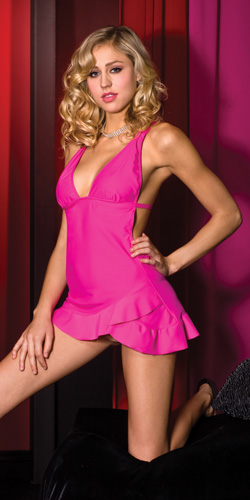 I have this gorgeous
V Neck Dress with O- Ring Back
dress hanging from our bedroom TV stand- I see it before I go to bed each and every night
.
I tried it on and it looks ok- if Im standing (and sucking it in) lol so I am determined to wear this and feel 100% comfortable in it. I know DH is happy with me in it now- but I'd feel hotter if it werent quite so fitted around the midline. So I see it before I go to bed and I vow to get in a great workout the next day.
I intend to wear this hot little number on our cruise in late January. Isnt it cute! I see it hanging on the TV stand every morning while getting ready for work. I see it while getting dressed in the mornings and I strive to make healthy eating choices each day. This hot little number is keeping me motivated to look and feel my best.


The dress comes shipped to your door discreetly packaged in a plain brown box. The dress is packaged in a small thick plastic bag - what I love about this packaging is that it protects the dress but does not have a ton of excess packaging that is bad for our environment! It also has a nice clear picture of the dress worn by a model on it so you know exactly how the dress fits. Some of their really strappy dresses can be confusing (maybe its just me?) without having a picture in front of you so I am happy to have the cute model picture included!
So do you have a motivational strategy that will help you get yourself into the new year on the right track? Having a sexy goal outfit from EdenFantasys really helps me!
I received a sample of this product to review. I was in no other way compensated for my honest review. All thoughts and ideas expressed are my own. I am disclosing this in accordance with the Federal Trade Commissions 16 CFR, Part 255 Guides Concerning the Use of Endorsements and Testimonials in Advertising.