So we all know that EdenFantasys.com

offers a huge line of

sex toys

and intimate apparel but they also sell my favorite makeup palette: Bella in Bloom! Keep reading to learn how to get the most out of this kit and to create a stunning look using just the Bella in Bloom face palette.
First things first: The Bella in Bloom Face Palette has literally everything your cute little face needs to look your best (and then some!) Here are some application tips that I would like to share with you all! Here is me in all my Bella in Bloom glory:
Eyes: First, start with the white eyeshadow in the Bella in Bloom palette. Using the brush provided, apply it all over your eyelid- from eyelashes to eyebrows. Then choose the pink or coral shades (either to the left or right of the white) and apply that in the crease of your eyelid. You will make a half circle in your eyelid crease. Then using the darkest eyeshadow and a wedge brush line the bottom of your half circle and blend upwardly into the medium shade. If you want to make your look more dramatic- simply wet your wedge brush a bit before applying. Reapply until the desired look is achieved. If desired, fi
nish with eyeliner and mascara. Another tip I would recommend with this set is to use a brown eyeliner and then using your wetted wedge brush- swipe the darkest eyeshadow color over your eyeliner. It blends better & mutes the dark eyeliner. I think it really ties the look together nicely.
If you want an even softer look- omit the eyeliner & just use the darkest shadow shade and a wedge brush to line your eyes.
Cheeks:

Using a blush brush, apply the blush starting at the corner of your eye and drawing downward over the apple of your cheek. The area your brush touches first will be darkest and you want that to be the upper most area covered (the corner of your eye).
Lips:

Chose which shade in the Bella in Bloom palette you like and swipe all over lips with the brush provided. You can mix & match the three lip glosses to create a myriad of different lip colors. If you prefer darker lips, simply line them first and then apply the Bella in Bloom gloss over your lined lips. I am wearing a combo of the two pink shades in this picture.
Visit
EdenFantasys
to get yourself this palette (available in difference color schemes!) and be sure to check out their other makeup and bath & body products!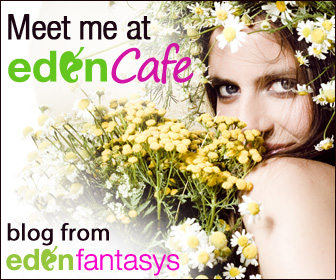 I received a sample of this product to review. I was in no other way compensated for my honest review. All thoughts and ideas expressed are my own. I am disclosing this in accordance with the Federal Trade Commissions 16 CFR, Part 255 Guides Concerning the Use of Endorsements and Testimonials in Advertising.