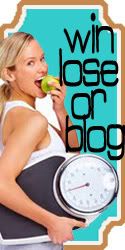 I just wanted to give everyone a quick heads up that
Win, Lose, or Blog
is successfully wrapping up season one and season two will begin in just two weeks!
We will be accepting applications
for season 2 contestents starting Monday August 9th so be sure to check back on Win, Lose, or Blog then. If you submitted last season and were not selected PLEASE resubmit! It was SO hard choosing and we had SO many wonderful applicants.
Season 1 prizes
will also be awarded soon-so keep an eye out and remember prizes are being awarded to contestents and to blog followers!!! Next season will be full of awesome giveaways (anyone can enter!) and prizes will again be awarded to contestents and followers!
We are also
looking for sponsors
for Season 2! Last season we worked with awesome companies such as
Arbonne-Polly Lockman
,
Eden Fantasys
,
The Vintage Pearl
,
Shey B
,
Sea Willow Herbs
,
Bean Street Market
,
Baby & Me Botique
,
Sophie Laree
, and
Simply Vie
. If you are a
consultant, etsy shop owner, business owner
, etc. and are interested in sponsoring a contestent prize or smaller weekly prize please contact me at lindseylu8 at netzero dot net. Its an awesome way to promote your company and to support the ladies competing for a healthier life!
And I am lucky enough to be friends with
Patti Hughes, Tastefully Simple
consultant who is one of our season 2 sponsors! Patti is THE perfect sponsor because she herself is a big loser! GO PATTI!
( Custom cakes by Lindsey Lu. Phoenix custom cakes. Specialty Cakes Phoenix. Arizona custom specialty cakes. Specialty cupcakes phoenix. Custom Phoenix cupcakes Phoenix wedding cakes Phoenix birthday cakes, specialty birthday cakes phoenix)