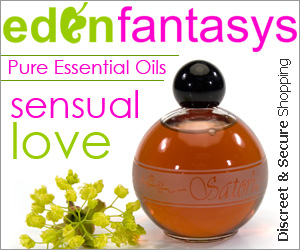 EdenFantasys

sex shop offers more than just sex toys, they have a complete line of massagers- as many of you know, I have a bad knee, bad neck, and bad back, ugh! I recently had the pleasure of reviewing their Infrared Massager and let me tell you- IT ROCKS!!! Seriously great for tired and sore muscles! I have been making it a goal to use it on my neck & back for at least 10 minutes every day and it is really helping un-kink all those knots! I cant recommend it enough for anyone with tired, overworked, or sore muscles! Perfect for all of us exercise junkies!
It is easy to use alone or have your honey use it on your muscles for an even more relaxing massage! As you can see it comes with
five separate
interchangeable
attachments
so you can get just the right pressure and feel that you are looking for. AND the wands flexible head warms- which creates a super relaxing feel that your muscles will thank you for! Great for those cold evenings!
I really like the convenience of being able to get a quick massage in at home. We live not super close to any massage salons and I really cant afford $100 an hour as often as I would like (every day lol) so this is really the ideal solution, economically and time savings - you dont have to drive, wait in the waiting room, etc - just grab your Infrared Massager and quickly relieve your aches & pains at home, whenever you need it!
This also makes a great gift for anyone you know that could use a little relaxation! I am thinking of putting together a "spa day" gift basket for my mom- she could really use this. Toss in some massage oil, and a nice relaxation candle (both available from EdenFantasys!) and you have the perfect holiday or birthday gift!
AND EdenFantasys offers
FREE standard shipping (continental USA) on ALL orders over $35.00!
Wow you cant beat that! The Infrared Massager is on sale right now for
ONLY $24.49!!!
Hurry and get yours now while this sale lasts. I saw a similar massager at GNC for more than TWICE the price- this is a great bargain! And EdenFantasys offers a
complete line of massage lotions, massage candles, and oils-
grab yourself a few while youre at it to complete your relaxing massage experience!
I received samples of these products to review. I was in no other way compensated for my honest reviews. All thoughts and ideas expressed are my own. I am disclosing this in accordance with the Federal Trade Commissions 16 CFR, Part 255 Guides Concerning the Use of Endorsements and Testimonials in Advertising.